NEWS
Dogo Jackie R.I.P.
15.12.2018 Jagwa Music's lead singer Dogo Jackie (Jackson Aluta Kazimoto) died in a tragic car accident in his home town Morogoro on December 8. Jackie was on his way to attend the funeral of an aunt, when the car he was traveling collided head-on with a truck. Jackie is survived by three children, Saidi, Nuru and Leonard. You will be missed Dogo Jackie, Mungu akulaze pema peponi!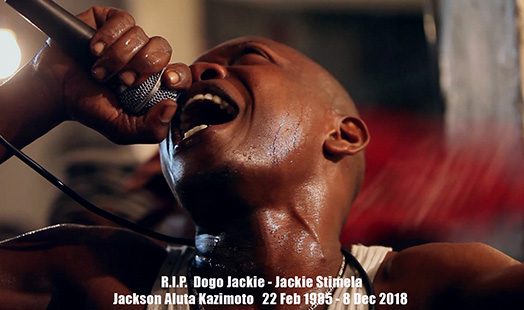 Jagwa Music: Center Stage US Tour
02-09-2016 "Speed, heat, and swagger. Tanzania's Jagwa Music bangs out a hard-won celebration as screaming hot as a jet engine." The group will be touring in North America for the first time, notable events are: Millenium Center, Washington, DC (October 1), Le Poisson Rouge, New York (October 5), Joshua Tree Music Festival in California (October 8). Jagwa Music's trip is part of a Center Stage touring programme featuring artists from Algeria, Pakistan and Tanzania in the 2016-17 season. More information on the tour can be found here.
More details ››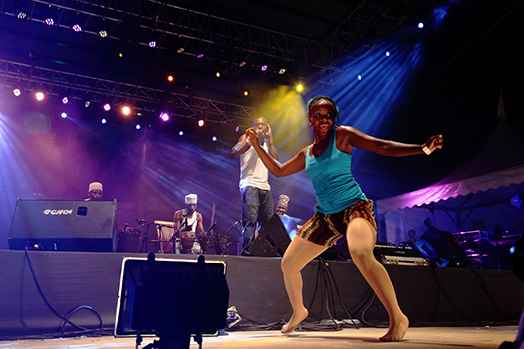 Bongo Hotheads and a show in Tandale
01-09-2016 In the news recently: Paste Magazine praises Bongo Hotheads among a number of albums "that will change the way you think about African music": "[T]he street musical genre mchiriku is seriously punk. Hand-built and hand-tuned drums thunder through the night at the mchiriku dance parties, young singers' voices ring out from the microphone, and a single Casio keyboard, jury-rigged through amplifiers and old PA systems and powered by a car battery holds a drone-like blast of melody. Distortion is half the fun here, and that long, droning, looping, pulsing Casio sound is otherworldly… Named for the Anglo-French fighter jet "the Jaguar," Jagwa Band have a kind of hardcore punk energy to their performances that marks this music as street party music. They should be a blast to see live." [Paste Magazine]

A while ago we took David Tinning out to one of Jagwa's live shows in Tandale, here are his impression on ElectronicBeats.Net: "Jagwa Music is a crossover band. That's not to say that there's anything commercial about its sound, but nevertheless it truly strikes a chord with European audiences, despite that the group's almost unheard of in their native country, Tanzania. Their full-on aural assault combines six drummers who seem to play independently of each other, a Casio keyboard run through a cheap Tannoy speaker system and distorted to hell, and a extremely charismatic, intense front man. They play local gigs in their neighborhood and, amazingly, at weddings. Beholding them perform on the street in a neighbourhood of Dar es Salaam at dusk was the most visceral, electrifying and actually dangerous music show I've ever seen. The audience were ripped on cheap spirits and weed, and whipped into a frenzy by the Jagwa onslaught operating at full force." [ElectronicBeats.net]
Jagwa Music: Summer Concerts in Scandinavia, Portugal and Spain
06-06-2014 Jagwa Music will play a string of Spanish festivals in mid-July courtesy of Casa Africa, dates include Pirineos Sur, La Mar de Musica, Etnosur and Mumes. Gigs in Portugal include Music Box in Lisbon, FMM and Milhoes Festival. Jagwa will also play at the Copenhagen and Arhus Jazz Festival (Denmark) and Urkult in the North of Sweden.
More details »
Kazimoto: Dar es Salaam Street Vibe meets International Electronica
01-06-2014 International critics have called Jagwa Music's Dar street vibe variously as "hand-made techno" or "African nu-rave". During one of the group's stays in Berlin they had a chance meeting with German electronic artists Andi and Hannes Teichmann: the brothers attended a club show by Jagwa and the following day met for some jamming at the Gebrüder Teichmann's studio. Now in February Andi and Hannes had their initiation into the real mchiriku attending some of the group's street performances and rehearsing for a joint project that brings together Jagwa's lead vocalist Jackie Kazimoto, Casio wizard Shukuru Ponza, percussion maestro TP, with the drum and bass duo of Tony Karama and Abdallah Ng'onda. After their initial performance in February at Zanzibar's Sauti za Busara Festival—kind of drowned in torrential rains, yet still showing lots of promise—Kazimoto will take the heat to Lisboa Mistura Festival later this month and to TFF Rudolstadt in early July.
More details »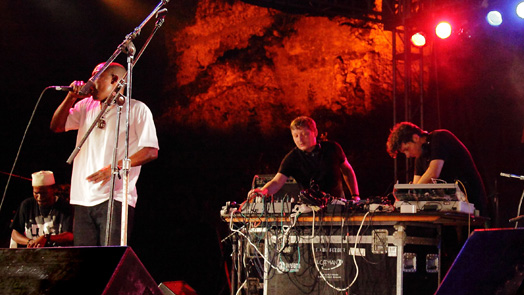 Jagwa Music to Perform at Rain Forest World Music Festival
05-05-2014 In June Jagwa Music will head to the Far East for the first time to perform at Rain Forest World Music Festival in Kuching, Sarawak.
Jagwa Music to Play Beirut and Beyond Festival
11-11-2013 Just confirmed: Jagwa Music will play at Beirut and Beyond Festival in Lebanon on December 6.
For more information »
Video: Live at Paléo Festival Nyon 2013
22-08-2013 During their summer romp across Europe Jagwa spent two relaxing days on the shores of Lake Geneva, playing shows at Paléo Festival's Village du Monde. Here is a short excerpt from the second show. The songs are "Mchawi Ndugu" and "Maji Hayapandi Mlima". Play it loud!!!

Summer Tour extended
02-08-2013 Jagwa just added three more festival performances to their summer schedule: Performances will be at Way Out West in Gothenburg, Oya in Oslo and O.Z.O.R.A in Hungary.
For details Concerts »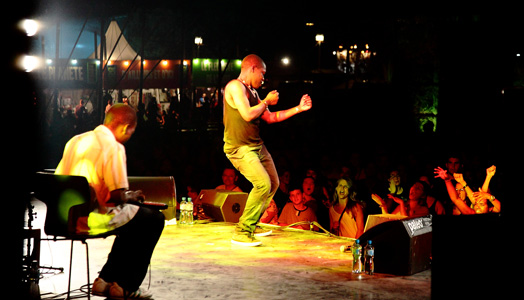 Tour Dates Summer 2013
10-06-2013 Noise masters Jagwa Music will take their Dar es Salaam street vibe to summer festival stages across Europe in July. Major stops include Fundaçao Gulbenkian (Lisboa,PT), Fusion Festival (Lärz, DE), Copenhagen Jazz Festival (DK), Skankaloss (Gagnef, DE), Paleo Festival (Nyon, CH), Womad (Charlton Park, UK), Sfinks (Boechout, BE), Zomerparkfeest (Venlo, NL).
Concerts »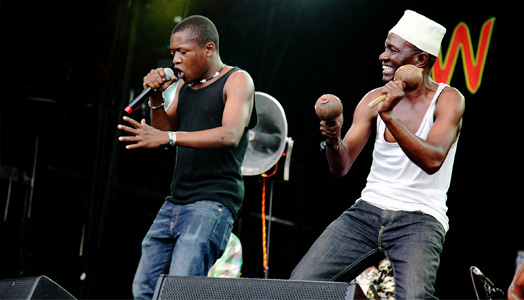 Jagwa Music Rocks Lac Genève
09-11-2012 Here's a short review of Jagwa's performance at Le Bourg, Lausanne last night:
La révolution Jagwa Music: « Ils ont débarqué hier soir sur la scène du Bourg tel un tsunami musical. Ils ce sont les six musiciens de Jagwa Music. Quatre percussionnistes et un clavier pour une déferlante de rythmes et de sons saturés. Et un chanteur qui arpente le devant de la scène entre rap, chant et harangues. Ils jouent sur des percussions africaines, dont un tambour basse dont les vibrations vous remuent les entrailles à chaque frappe, mais balancent aussi leur frappe sur un…. tabouret. Quant au clavier, il a l'allure d'un jouet d'enfant, une simple rangée de notes blanches et noires posées sur les genoux d'un des membres du groupe qui d'une main plaque quelques accords et de l'autre esquisse une mélodie minimale, son pouce courant sur les notes rapidement. Ce style s'appelle mchiriku et fait penser à du Konono n° 1 ou du Kasaï All Stars sous l'influence de substances excitantes. … »
[Elisabeth Stoudmann 09. Nov 12]

European Tour
03-11-2012 Jagwa Music are in the midst of a short European tour. The picture shows the rhythm section led by Mazinge on stage at Amsterdam's Melkweg earlier this week. They will be playing Musique Publique at Théâtre Molière in Brussels on November 3 and at Comptoir Général in Paris on November 4.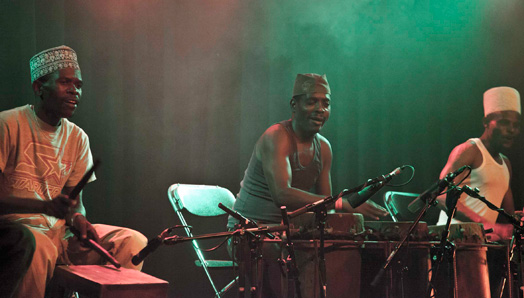 First International Release out on Crammed Discs in May
03-15-2012 "The debut album by the exciting Afro-punk collective from Dar-es-Salaam (Tanzania), JAGWA MUSIC, whose electrifying appearances at festivals such as Roskilde have created a sensation. Imagine a crew of 8 youngsters (with a great, urban dress sense) playing nutty grooves at breakneck speed on traditional percussion, a keyboard player going mad on a battered vintage Casio, and three relentless front persons: two breathtaking, spectacular dancers and a charismatic lead vocalist/MC, belting out songs about survival in the urban maze, unfaithful lovers and voodoo."
[Release date: May 2012]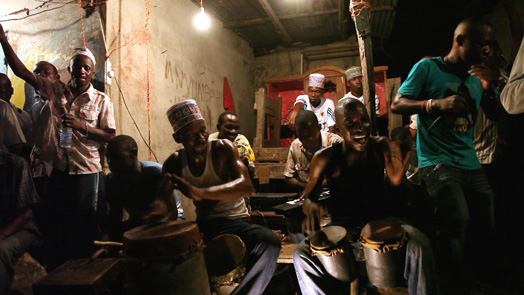 First Tour Dates Announced
03-15-2012 Jagwa will be on a European tour in May and June 2012. They will play festivals in Chiasso (CH), Gothenburg (SE), Linz (AT), Llubljana (SI), Nijmegen (NL), Prague (CZ) among others. More dates to be announced soon.
Jagwa Music takes the street vibe of Dar es Salaam to the big stage
06-10-2011 Jagwa Music just completed a short European tour which took them to the Roskilde Festival (DK) and TFF Rudolstadt (D) among others. Successfully transforming the vibe of their Dar es Salaam street performances to the big stage singer Jackie Kazimoto and crew transformed Roskilde's Cosmopol tent into crazy party that lasted until the curfew at 4 am. Here's what the Danish press made of their show:

A HARD-HITTING PARTY: JAGWA MUSIC IS COMPLETELY OUT OF CATEGORY
A wildly syncopated rhythm section in sickly exorbitant high-speed interaction with a cheap Casio-keyboard spitting harmonic Esperanto. And a lead singer with the charm of a young Michael Jackson flanked by two absolutely out of hand/unruly dancers, just as dirty/bawdy and funny as acrobatic. Rarely has Cosmopol driven the energy level that high and merry.
[Ralf Christensen, Information, July 4, 2011, p. 1; www.information.dk]
IRRESISTIBLE ROCKERS FROM TANZANIA
The lead singer of the incredible group which is establishing East African sounds in the global conscience, is a fantastic, wonderful and cheeky guy with a strolling, almost flippant appearance. And behind him is an ensemble, which mostly consists of percussionists, who weave a flying carpet of beats, while the melodic parts are performed by a kid with a small keyboard, which unmistakably resembles the one I bought for my daughter, when she was five. And I dare say that it moves. […] They are a street style band like the more famous ones from Congo. But the way they kick ass, the role as the underdog is soon to end. And as the last band Saturday night on Cosmopol they made a packed tent go crazy. The audience did not want to let go of the party. Unequalled/brilliant, simply!
[Torben Holleufer, Gaffa, July 3, 2011; www.gaffa.dk]